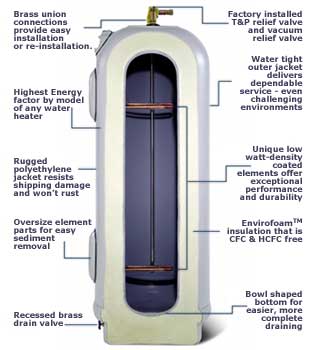 Charles Mix Electric encourages the safe and efficient use of electricity. One way of doing that is to promote the best electric water heaters available today, the Marathon. Available for purchase to members and non-members.
The seamless, blow molded polybutylene tank is impervious to rust and corrosion. Multiple layers of filament wound fiberglass give the tank unmatched strength. The tank is designed, built and warranted not to leak "for as long as you own your home".
Envirofoam insulation is free of ozone depleting CFC's and HCFC's so it saves the planet-and it saves energy. Pipe Wrap Energy Kit is included to reduce heat loss from plumbing lines.
Recessed drain valve is out of the way of brooms and scrubbers. Tough molded outer shell resists dents and scratches. Bowl shaped bottom allows more complete sediment draining.
Factory installed Temperature and Pressure Relief valve for greater value and security. Conduit between control boxes facilitates wiring for "Off-Peak" use. All plastic tank eliminates the need for an anode rod - preventing potential odor problems.
Rebates
Members of Charles Mix Electric may be eligible for a one time rebate on the Marathons Water Heaters. See our Rebates Page for more information.